Kangaroos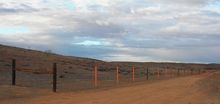 The famous Dingo Fence now Orange: repelling Kangaroos
Some years ago Michael Balharry and his innovative team at the S.A. Dog Fence Board contacted DM Plastics and Steel. They maintain the very long dingo (dog) fence stretching over middle Australia.
The Board requested DM Plastics to make Maxi Poly Droppers in an 'orange' rather than black colour. It was believed the orange colour would repel kangaroos and feral animals.
A key feature is that the fences are not destroyed by a kangaroo crashing into fence at speed. The experiment worked and they now regularly use Orange Maxi Droppers on The Dog Fence.
Orange products are a little more expensive than black products, but they have extremely high visibility, and are ideal for electric fences.
The SA Dog Fence Board are thrilled with the success of these Orange Maxi Droppers. DM Plastics now sells Polylok- black, white and orange Maxi and Poly Droppers. Others graziers have gone on to successfully use these orange products.
The orange fences are also made to resist kangaroos and feral animals from pushing underneath by using the Poly Dropper- Flicker system to support the droppers at the fence base. These standard fences use 1525mm Orange Maxi Droppers over C Posts spaced at 50 meters, or on hollows and hills and use 1370mm Orange Poly Droppers with Flickers at 5 or 10 meter spacing.
For more information, prices or technical support CLICK HERE > contact-us