Mining Industrial & Civil (MIC)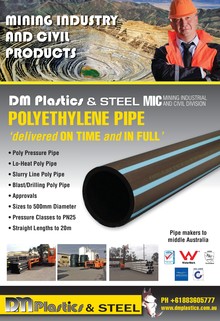 We are excited to have extended our product range to include LARGE PIPE products for use in the MINING, INDUSTRIAL & CIVIL INDUSTRIES.
We are currently manufacturing up to 500mm pipe and looking to extend our extrusion capability to 800mm in the future.
Other mining products are: Blast Mats & Blast Pipe. We also manufacture straight lengths to 20m
We are committed to manufacturing to the following QUALITY standards: ISO9001, Watermark, WSSA, SA Water.
We are proud supporters of the Civil Contractors Federation of SA.