Poly pipe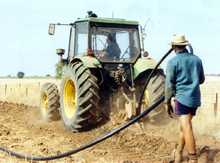 DM Plastics & Steel Pty Ltd is a major Australian poly pipe manufacturer in Adelaide, specialising in Metric poly pipe and Rural poly pipe for:

* water movement for stock
* mining
* domestic projects
* major infrastructure projects.

We have the greatest number of adaptable extrusion machines in South Australia, allowing us to produce an extensive range of pipe classes, sizes and lengths.
We offer state-of-the-art design and product selection assistance to achieve the best outcomes for your project, large or small. Our focus is supply and delivery of premium polyethelene product to our clients, and our reputation is enviable.
Contact Us CLICK > Contact Us
Read about Quality Assurance CLICK > quality-assurance
View Catalogue CHOOSE > "Metric" or "Rural" or 'Gas Pipe" below

Found 3 Results, displaying 1 to 3