Guideposts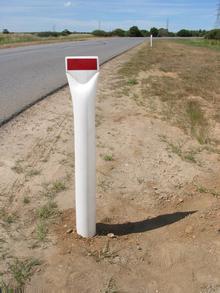 Polysafe Guideposts is an air-filled and sealed cushion roadside delineator - an innovative road-marking solution. The post has been approved by VicRoads (Victorian Roads Authority) as a suitable product for road delineation.
1. Frangible: Upon impact by a motorcyclist, it moves out of the way, minimising harm.
2. Cost effective: Because of the frangible "bounce back" feature, the post can be hit many times, minimising maintenance costs.
For more information,
WATCH > Guidepost video below
VIEW > Guidepost .pdf brochure below
CLICK > Contact us

SafePost_Brochure.pdf

Watch Video